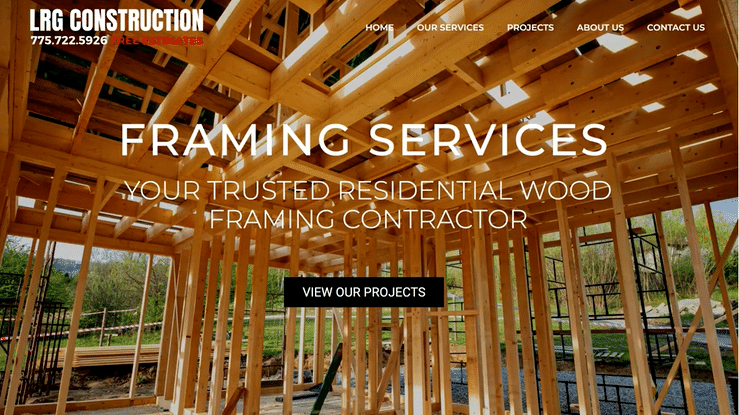 General Contractor Website
The most successful general contractors are those who know how to market themselves and their services effectively. And while marketing isn't the most technical of tasks, it can seem overwhelming if you don't have the right tools at your disposal. Fortunately, you do or can make the right tools, and they come in the form of a general contractor website that's well-designed and engaging. Check out this list of five benefits of having such a website below, and then find out how to build your own with one of our expert team members!
1) First Impression
Before a potential client can learn about your business, they must first land on your website. This is where you make or break your first impression. Studies show that most people decide whether or not to do business with you in just under 5 seconds (yes, it's true). So what does it take to create an amazing first impression? In short: an engaging general contractor website. From beautiful photos to expert copywriting, here are 5 key benefits of having a professional site that truly sets you apart from competitors.
2) Consistency and Clarity
General contractor websites are essential to their business's success, since they allow consumers to have access to important information about general contractors' services and projects. A professionally designed general contractor website will make it easier for people to find information about your company on Google, as well as letting potential clients know that you have experience and expertise in your industry. When designing a website for general contractors, it's essential that it is consistent with your branding efforts.
3) Mobile Optimization
Did you know that around 51% of consumers prefer mobile searches to general contractor websites on their desktop? This means that it's more important than ever for general contractors to optimize their websites for mobile. After all, if your website is hard to navigate from your smartphone, you're not going to get any phone calls – meaning lower revenue and missed opportunities. Fortunately, there are plenty of easy ways to make sure your general contractor website is optimized for mobile devices.
4) Local SEO
Although most general contractors use their websites to attract customers, it's important to remember that you're also building your website with other types of consumers in mind. The best general contractor websites offer local SEO (search engine optimization) tools, so that customers looking for contractors near them can easily find and contact you. That way, when prospective clients see your site in search results or rankings, they know right away you are close by and ready to do business. This makes local SEO one of the top benefits of hiring a professional web designer. If you have little experience designing general contractor websites, then having someone else create yours is probably your best bet. A good designer will be able to design a site that not only attracts new clients but also makes it easy for current ones to connect with you through email or phone calls. A great general contractor website should make these connections easier but if you want yours to stand out from all others, then keep reading!
5) Pro Tips
Designing a general contractor website that looks good and performs well comes with several benefits for homeowners and business owners. First, it makes you look like an expert in your industry, which can help drive more traffic to your site. Having great design also means your pages are mobile responsive and easy to navigate, so customers can find what they're looking for easily from their smartphones or tablets. Finally, having an appealing general contractor website could be exactly what you need to take your business from successful to thriving. It doesn't matter if you work as a general contractor or run your own contracting company—having a professionally designed website is crucial to attracting new clients and increasing sales. Here are five ways you can use a professionally designed general contractor website to grow your business
5) Professional Online Presence
Online presence is an absolute necessity for businesses, big and small. General contractors can no longer afford to be left out; it's simply not an option. Today, potential clients will do research on companies via Google and social media before they ever get in touch with you—which means if your company doesn't have an online presence, they won't think you exist. And even if you are working as a general contractor today without one, it may be time to rethink that decision.
---
---
---
---